A charming and traditional, small city with its territory, always pulsing with events, surprises and treasures… Parma is the beating heart of the Food Valley, the food-and-wine core of Emilia Romagna region, Italy and Europe!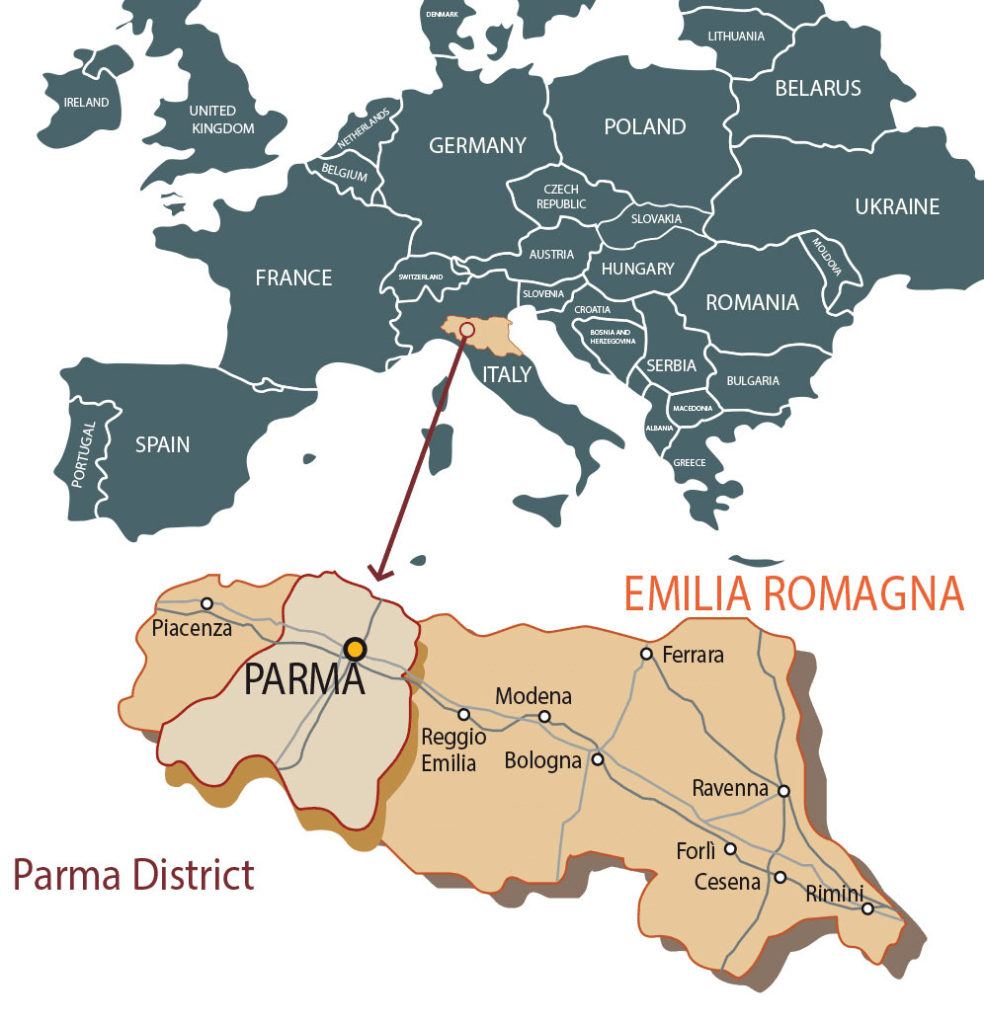 The city is the living proof of what the Food Valley offers through its treasures. In 2015, Parma was declared a UNESCO Creative City of Gastronomy in recognition of its territory's typical produce: Parmigiano Reggiano PDO, Parma Ham PDO, Culatello di Zibello PDO, Salame Felino IGP, Coppa di Parma IGP, Spalla Cotta di San Secondo, Black Truffle of Fragno, Porcini Mushrooms of Borgotaro IGP, and Colli di Parma wines. Emilia Romagna holds the record for PDO and PGI products, with no less than 44! But Parma has even more products to offer: from a production tradition of hand-made fresh pasta to historical olive cultivations since 1100 a.d. Even the delicious Gelato that was awarded as "Best Italian Gourmet Ice Cream 2019" is from Parma!
The food industry is a further boost for this patrimony, feeding Italy and the other countries of the world with its remarkable production: Tomato sauce, High quality pasta and food and vegetable preserves! A food and wine treasure that has its roots in a great artisan tradition, a long story and a continuous pursuit of perfection, involving Art, Culture and Music!
Parma is also the musical heart of Northern Italy and the homeland of Giuseppe Verdi and Arturo Toscanini. The Festival Verdi is an annual event, alongside the Festival Arturo Toscanini and other major musical festivals and concerts.
Parma, the virtuous "Petite Capitale" of the Duchy of Marie Louise of Austria, is a growing, creative and dreaming city: it is the Italian Capital of Culture 2020, ready to welcome visitors with its secrets, its elegant town centre and let them soak up its cultural patrimony. Beyond, lie the rolling Parma hills and expansive Po Valley: a thrilling landscape dotted with castles and fortresses, and splashed with the colour of autumnal beech forests.
But Parma never stops and puts its efforts into the future! The city aspires to become the European Green Capital 2022 with new green unspotted areas for its people and its guests.
Let yourselves be fascinated by the Food Valley and experience an unique journey!